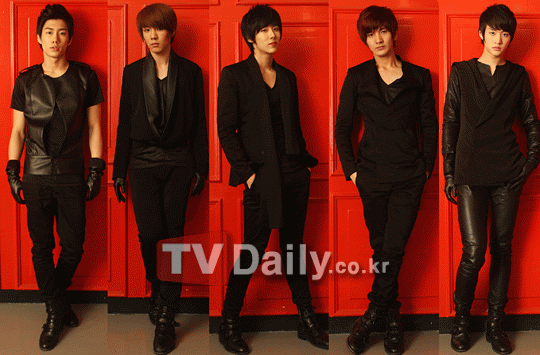 Newcomer group, X-5. They are literally the 'power rookies'. At the same time they debuted, they received love calls from not only Korea but from other nations as well. They are showing a scary popularity rise.
Through 'The Show is Over', with the charm point of its strong beats, X-5 shows off their chic and powerful masculinity and definitely caught the eyes of the public. Not only this, but they are also shaking the hearts of female fans by showing off gentle features and impressive heights.
☆ The Dream of Being a Singer ☆
- Ghun: I wanted to do acting at first. Through the academy I went to, to get into the Department of Theater and Film, I performed for the first time at a musical gala concert. I didn't have much interest in the musical department. However, because I liked dancing and singing ever since I was younger, I started liking musicals since you were able to act, dance, and sing at the same time. After going on stage multiple times, singing became the most charming thing for me and I naturally started having the dream of becoming a singer.
- Taefung: I started soccer in my 2nd year of elementary school. I liked it so much that I would hug my soccer ball as if it were my other half, and my dream was to be a soccer player. After being an athlete for 8 years, I had an accident of hurting my right ankle during a big competition, in my 3rd year of middle school. The hospital told me 'stop playing soccer' and these words were like a bolt out of the blue. Music was my largest strength when I was in a slump for a long time. And I slowly fell into it more. Then I created the mindset of 'let's try until it works' and set forth to be a singer.
- Haewon: While watching TV when I was in middle school, I felt the charms of acting. I applied into Gaewon Art High School and made it in. While I was in school, I posted a video of myself dancing and playing the drums on my mini-homepage and received a message of 'Do you have any thoughts about being a singer?'. A opportunity came to me by chance and through this, I achieved the dream of being a singer.
- Zin: I did Taekwondo for 7 years since I was 7 years old. During that time, I competed in all the competitions they hosted. While doing Taekwondo, I performed at other schools and competitions. Ever since then, I felt the enjoyment of being on stage. During my 1st year of middle school, I received my master's certificate for 4 levels of Taekwondo and got all the certificates I could at my age. So while looking for another way to be on stage and be in front of many people besides this, the job of being a singer caught my eye.
- Sulhu: After seeing Tiger JK senior's rapping, I started copying it. I followed my friend to a performance one day and I got casted there. I had auditions a couple days after and was chosen as an X-5 member.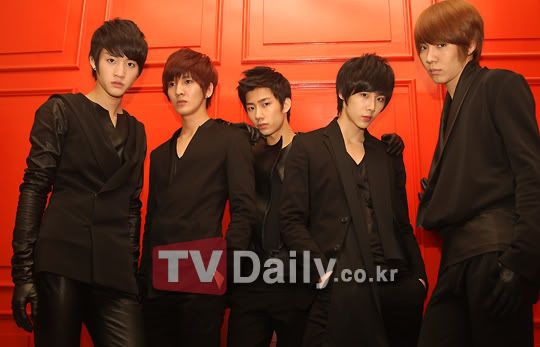 ☆ The Dormitory Life of Five Males ☆
- Ghun: Each of the members have their own job. I'm in charge of throwing out the trash and cleaning the bathroom. Although it's hard work, I do it all at once and not often, so I just go through trouble during that time.
- Taefung: I'm 'Laundry Taefung'. But I think it's too hard. Since there are a lot of members, I need to do it every day or two days. But I've gotten quite used to it, so it's okay. I put in the perfect amount of fabric softener with just my feel now. (Laughter)
- Zin: I'm in charge of the rice in the dormitory. Not the cooking, but just the rice. The members gave me the nickname, 'Instant Pre-cooked Rice Zin', because I cook rice well. I usually wash the rice and turn on the cooker. Although it looks easy, it is the most important job.
- Haewon: Besides the rice, I'm in charge of the side menu. We used to buy all the ingredients and cook it to eat. But after debuting, more schedules formed and we're not at the dormitory a lot so the food spoiled often. So now when we go shopping, we buy foods that can last for a long time.
- Sulhu: I'm in charge of washes the dishes after we eat and other various chores besides that. It's because I'm the maknae. (Laughter)
Credits : TV Daily + yeoljjung @ X-FIVE STAR + X5Update