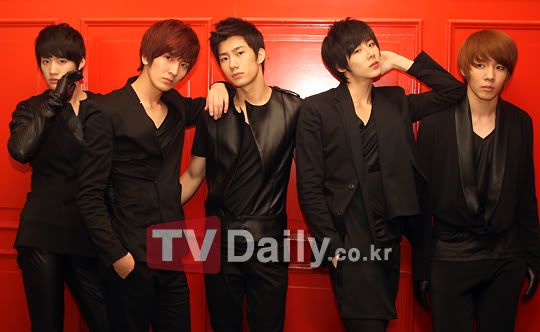 Through the flood of idol groups, there is a skilled group who stands out. This is the 5 membered male group, X-5.
X-5, even the name is unique. It's a team name that uses the Greek word 'XENOS', which means 'allomorph' and 'stranger', and is completed with 'Five' for the five members who have their own colors and charms.
Leader Ghun (23) who has a soft charisma, Haewon (21) whose fantasy-like eyes are his charm, Taefung (21) whose vocals hit you like a wind, masculine Zin (19) whose lifestyle is correct and certain, and the innocent and innocent maknae, Sulhu (17). The five men who have gentle features with heights that don't lose to models, overwhelming performances, and outstanding skills have given a warning about changing the music industry and set their first foot out.
The members who had a fated meeting with the group, X-5, through auditions. After a year of training from early morning till late at night, they swore their names on being singers and debuted. Then they stood on their first debut stage. Along with the anticipation of 'finally being able to achieve my dream' and nervousness, they weren't fully content with their first stage.
"Instead of being content with our first stage, we had more thoughts about needing to improve more. After monitoring the first broadcast, rather than compliment on the good points, we looked for our lacking points and now we're in the middle of fixing them. This is because we need to show a better side of ourselves to the public. Points that we were sad about were: we were nervous since it was our first time, we weren't able to show a side that showed we were enjoying it more."

To the recently debuted, newcomer group, X-5, it was the first time and the start for doing broadcasts, interviews, showcases, and everything else. To this, the members said in chorus, "We were really nervous for the broadcast stage, where we had to show our dancing and singing for the first time through television. But after doing one or two of them, I think we're more comfortable with it."
X-5′s title song is 'The Show is Over'. The song, with its strong and grand hip-hop rhythm that stands out, is by the singer/producer, Rhymer.
"The title is really strong, right? We think that 'The Show is Over' is a song that shows X-5′s positive points well. We have the positive point of being able to differentiate vocal ranges for the vocal and rap parts. The vocal's alto is Taefung, soprano is Ghun, and bass is Haewon. The rap's high tone is Zin and the low tone is Sulhu. Rhymer senior considered our uniqueness and made us the strong and dramatic song, 'The Show is Over'."
X-5′s vocal range, that allows each of their personalities to stand out along with matching each other's parts perfectly in the song, is their strategy that differentiates them with other idol groups. The confident X-5 members said, "Vocal ranges are something you're born with and we think meeting members with their own vocal range definitely becomes another positive point. We're able to express songs in various and wider ways, and we think that we can digest songs in-depth."
X-5 doesn't dream of becoming 'the 2nd' someone. Leader Ghun perfectly answered, "Because there are many seniors we want to like, we would like it if you didn't see us as 'the 2nd' someone, but just as X-5."
We asked what their goal was as a rookie. X-5, whose greed towards their dreams grow a bit more as they continue their answer to my question.
"Our largest goal right now is to let many people know about X-5. We don't think there could be anything more thankful than for the public to know about the group, X-5. If we pass that, it would be nice to get 1st on a music program. And if we add on more greed, maybe even the newcomer award on end-of-the-year programs? It's a chance that only comes around once." (Laughter)
Credits : TV Daily + yeoljjung @ X-FIVE STAR + X5update